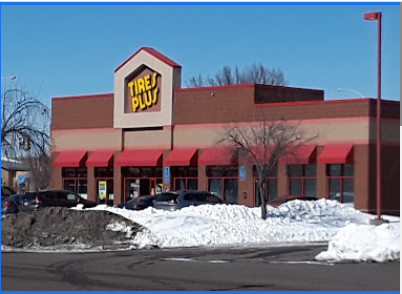 Tires Plus in Apple Valley, Minnesota, is a source for anyone shopping for new tires. They can find the fit for any vehicle such as SUV, truck, or car. Tires Plus has a tremendous selection of tires not only for your vehicle but also for personal driving choice and road conditions. They have an online store, as well as being able to get you a quote or schedule an appointment with an expert technician.
Tires Plus is not only about new tires. They can conduct routine tire maintenance, such as tire rotation and alignment. They provide other minor maintenance services, including helping with car batteries, brake service, windshield wiper blades, and basic tune-ups. Auto repair includes services to the heating and cooling system, radiator, and transmission. They can do an overall vehicle inspection and offer discounts.
Tires Plus has a vehicle covered seven days a week. They are open from 8:00 am to 5:00 pm on Sunday, 7:00 am to 7:00 pm Monday through Friday, and on Saturday, the shop opens at 7:00 am and closes at 6:00 pm. The hours of availability give the customer a wide range of times to make an appointment or come into the shop.
Even though Tires Plus offers significant benefits in coming to their shop, a Mobile Mechanic will bring the shop to you.
Imagine yourself or a loved one stranded on the side of the road. Its stone-cold winter in Apple Valley. It now comes down to two choices. Option one, place a phone call to a tow-truck and, hope that Tires Plus is open and can fix your vehicle or option two, call a Mobile Mechanic who is ASE certified and willing to come to your home, business, or where the car has broken down.
The excellent option of having Mobile Mechanics is that their service is customizable to each individual. Need mechanic help on restoring a vehicle? Mobile Mechanics can be there for you. Restoration is not in the Tires Plus basket of goodies.
Just like Tires Plus, anyone interested can get a free estimate. All it requires is a computer or an app on your phone. By clicking on the green Get Estimate button, select the type of assessment you need. The drop-down box will give you two options: a $99 In-Person Diagnosis or Beat Previous Estimates.
By choosing the $99 In-Person Diagnosis, Mobile Mechanics will send a mechanic straight to you to make a diagnosis of the issue. When selecting a Beat Previous Estimate, you will need a previous estimate from a shop to send. Once received, Mobile Mechanics will beat that estimate.
Once Mobile Mechanics receives the information, they will locate an ASE certified mobile mechanic in your area to meet your needs. The latest hour Tires Plus is open is 7:00 pm on a workday. Unfortunately, after 7:00 pm your vehicle diagnoses will not occur until they open the following morning. Mobile Mechanics are available any time on any day.
A price for service will generate, and you can escrow the funds from your phone to hire the mechanic to come to you. The funds remain secure in escrow until the job is 100% done. Mobile Mechanics places a 30-day warranty on all repairs.
Mobile Mechanics are mechanics that travel to your destination, fixing and replacing tires, basic service repair, and routine maintenance. They go through rigorous schooling to become ASE certified and can do jobs that most places such as Tires Plus can do without the customer waiting in-line, finding time to take the vehicle to a shop, or wondering if the mechanic is skilled enough to perform the job.